From the Archives: Office Park to Landmark
Allison Farmer
June 13th, 2022
Lifestyle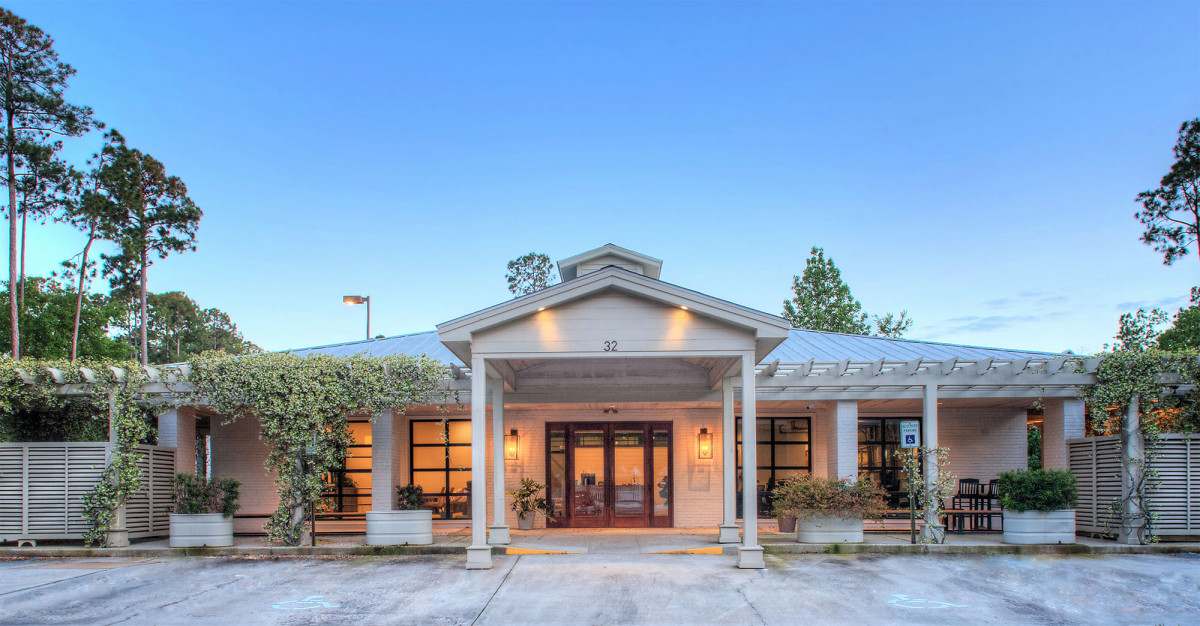 Join us as we share a story near and dear to our hearts from the Court Atkins Group archives.
In the same space where renowned Lowcountry chefs once crafted signature entrees, we're creating award-winning architectural and interior design. Our address is 32 Bruin Road in Old Town Bluffton, the former home of Red Fish Restaurant. James Atkins shares, "We actually purchased the building last year, but before making the move, we needed to repurpose the space for our growing team and expanding menu of services."
The primary goal of the relocation was to get the entire team under one roof. Team members from all service areas will collaborate on projects at the Bruin location. Currently, we offer three tiers of service, residential and commercial architectural design, as well as interior design.
"We were looking for a large, open design studio to encourage collaboration and an ongoing team dialogue," explains William Court. "We've converted the primary Red Fish dining area into that space, and thankfully, it features large roll-up garage doors that allow natural light and quick access to outdoor meeting areas."
The garage doors open to a partially covered deck and open-air fireplace. The partners have added a grand 17-foot mahogany gathering table, previously the Red Fish bar. "We'll meet and entertain clients and colleagues around that table, and no doubt the old Red Fish spirits will join us," Atkins says.
Other reconfigured spaces in the 6,200 square foot building include the former kitchen, now the interior design resource center; previous back bar area, now the interior design display gallery; past foyer and dining rooms, now a generous conference space and the original restaurant entry which has been transformed to welcome guests of Court Atkins Group with a dramatic color scheme and modern light fixtures. The floor plan also includes a full-service kitchen/break room and various smaller conference spaces.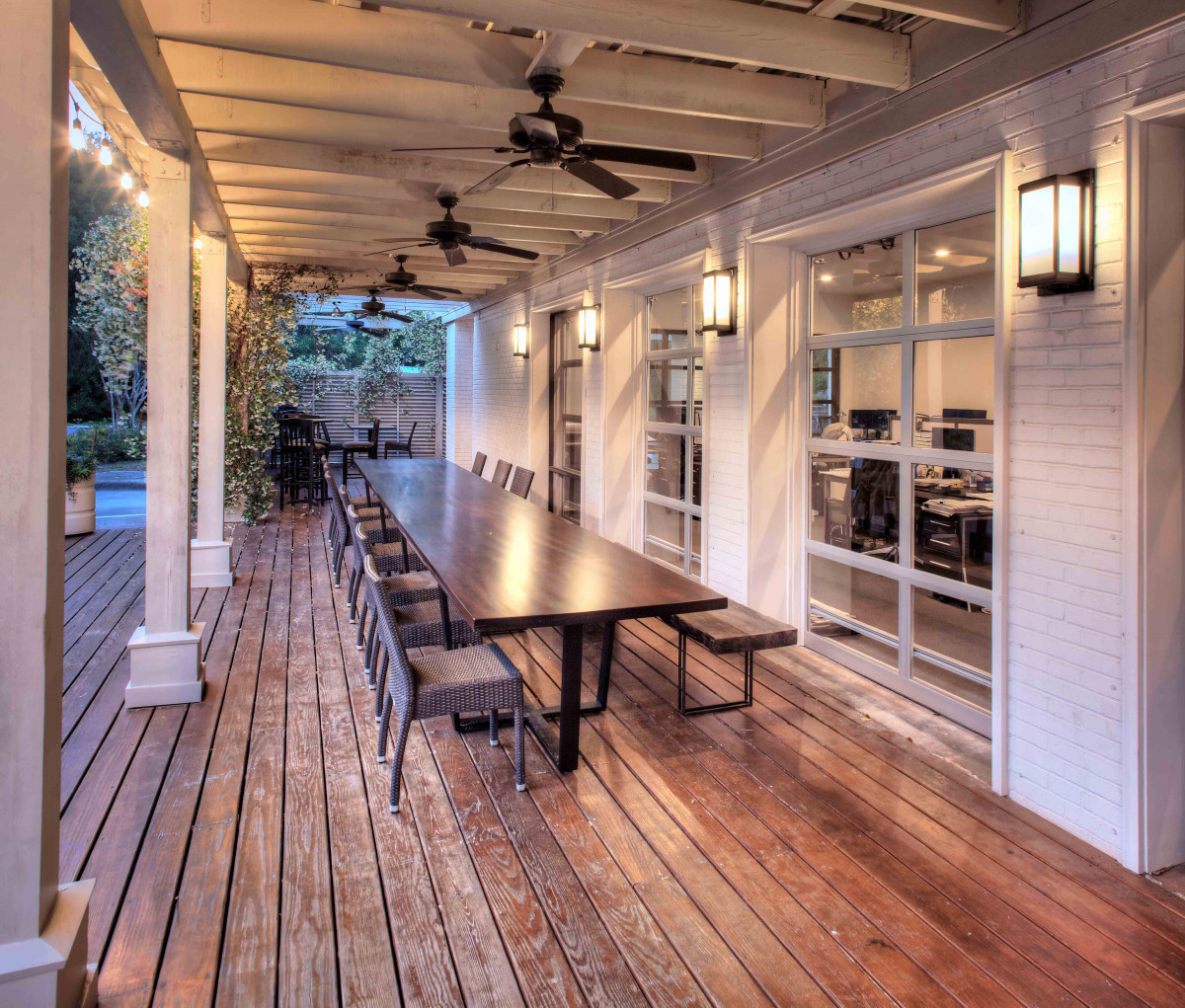 The original 17-foot mahogany bar was repurposed into a gathering table.
Design Director Deb Van Plew steered selections for the interior of 32 Bruin Road. "Our choices include the clean lines of a soft contemporary aesthetic, composed with authentic materials and textures we embrace in our region – nickel gap, brick, oak – with a little twist," Van Plew says. She and the team set out to keep the design understated yet professionally elegant and engaging. "We hope to create spaces that are fresh, inspiring, comfortable, approachable – nothing pretentious or intimidating."
The full renovation of our new offices entailed the support of many of our industry partners and community vendors. We'd like to thank everyone, especially the following: Shoreline Construction, contractor; Grayco, interior mahogany doors and transoms; JayCo, painting; Bluffton Millworks, cabinetry and furnishings; Burchette and Burchette, wood floors; Distinctive Marble, countertops; Billy Wood Appliances, appliances; Phillips Electric, electrical; Progressive Technologies, IT infrastructure; Gilman Flooring, carpet and LVT; Cregger Company, plumbing; Savannah Hardscapes, Tile and Bird Hardware, door and cabinet hardware.
Originally built in 1990, our Bluffton studio first opened as the Bluffton Post office. When the post office moved to Bluffton Village, the space became Myrtle's Restaurant and was later purchased and renovated by the owners of Red Fish. The popular restaurant remained open until 2018.
WANT MORE?
Sign up for our newsletter.
Stay up to date with all things Court Atkins Group – inspired design, client visions, upcoming events, the occasional bourbon recommendation, and so much more. We're glad you're here.