Design Roundup: Our Favorite Light Fixtures
Allison Farmer
December 1st, 2022
Interior Design
We asked our interior design team to send us their favorite light fixtures used in past Court Atkins Group projects, and their answers were as varied as the team itself. But on one point, the interior design team agrees: light fixtures are a great way to spice things up and add a pop of personality to a space.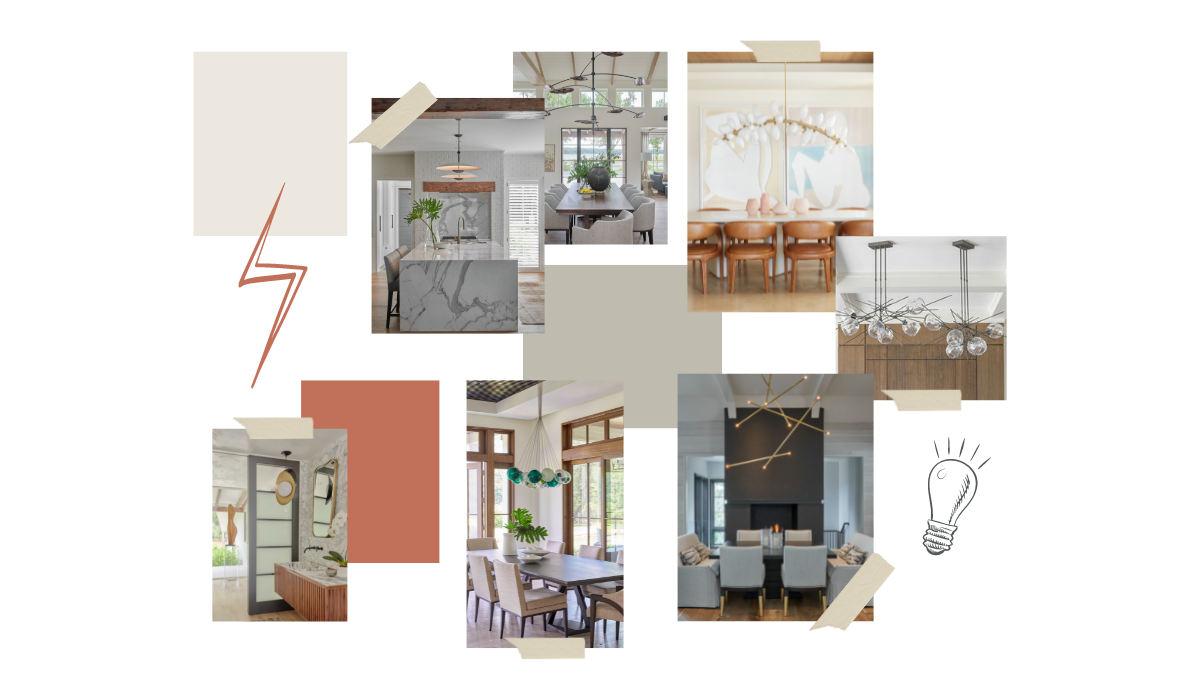 So, what were their favorites, you ask? Allow us to share.
Adrienne Warner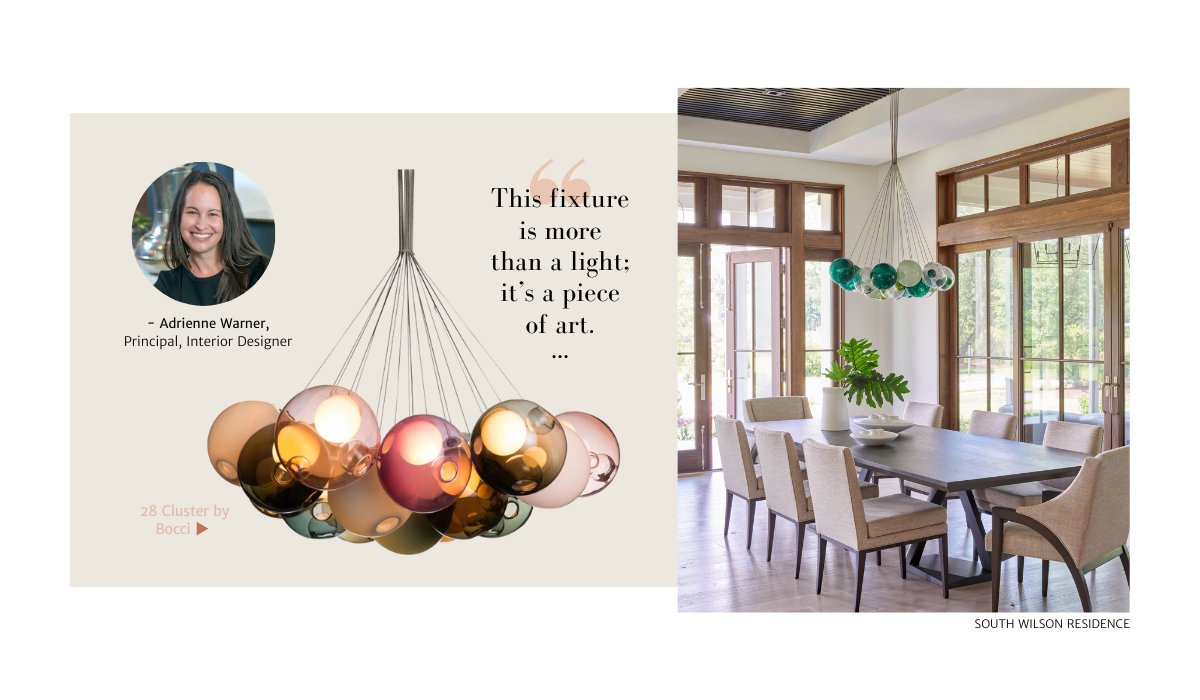 This one was easy. Without hesitation, my favorite light fixture featured in a project is the 28 Cluster by Bocci, where blown-glass spheres are suspended using braided metal cables. I love that each globe is unique and the infinite possibilities of color combinations, inspired by the blue tides marble slab in the adjacent kitchen. This fixture is more than a light; it's a piece of art. As seen in the South Wilson Residence.
Cali Hitt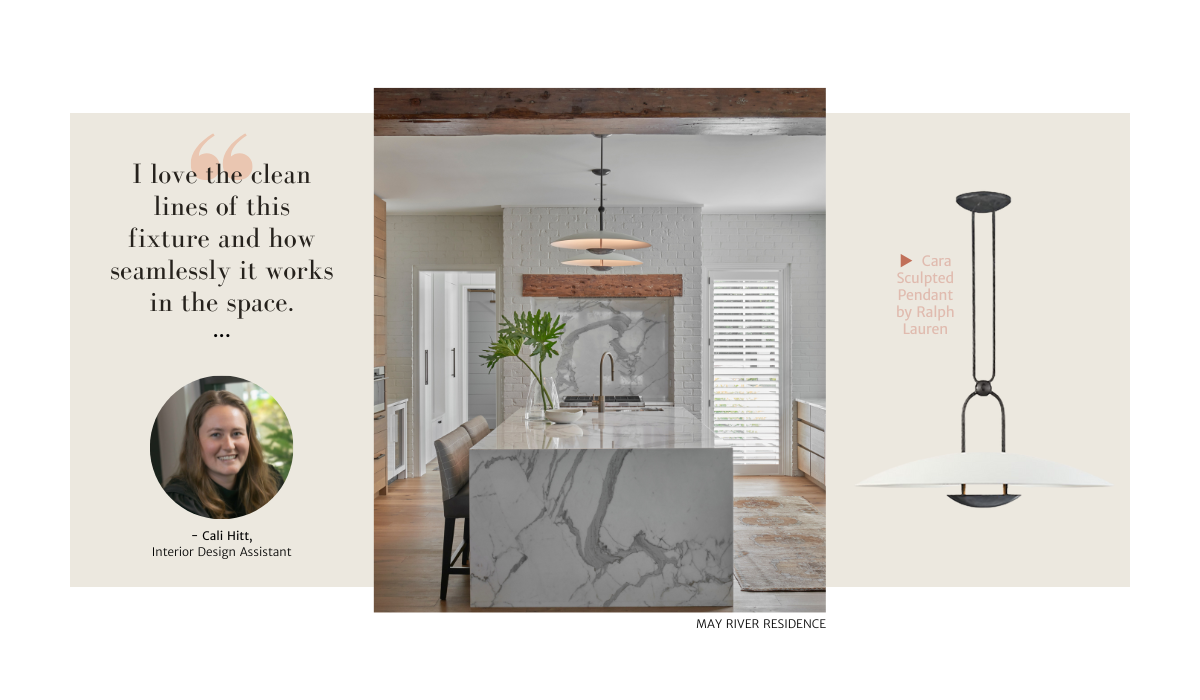 The Cara Sculpted Pendants in Bronze by Ralph Lauren have long been a favorite of mine. The elongated solid brass ring frames are sculptural in nature and are gracefully intersected by Venetian-inspired plaster dome shades. As seen in the May River Residence.

Deb Van Plew
For me, it's the Lindsay Adelman 44 Bulb Kingdom Chandelier in our Cabo San Lucas Villa. The brushed brass structure takes its inspiration from the Burro's Tail cactus, a plant native to the southern Mexico region, and befits the modern Mexican twist present throughout this villa.
This fixture truly shines because of its naturally imperfect existence. Each component of the spine joins together to create a rational curve that feels both mechanical and natural in its construction. As seen in the Cabo San Lucas Villa.

Emily Culbert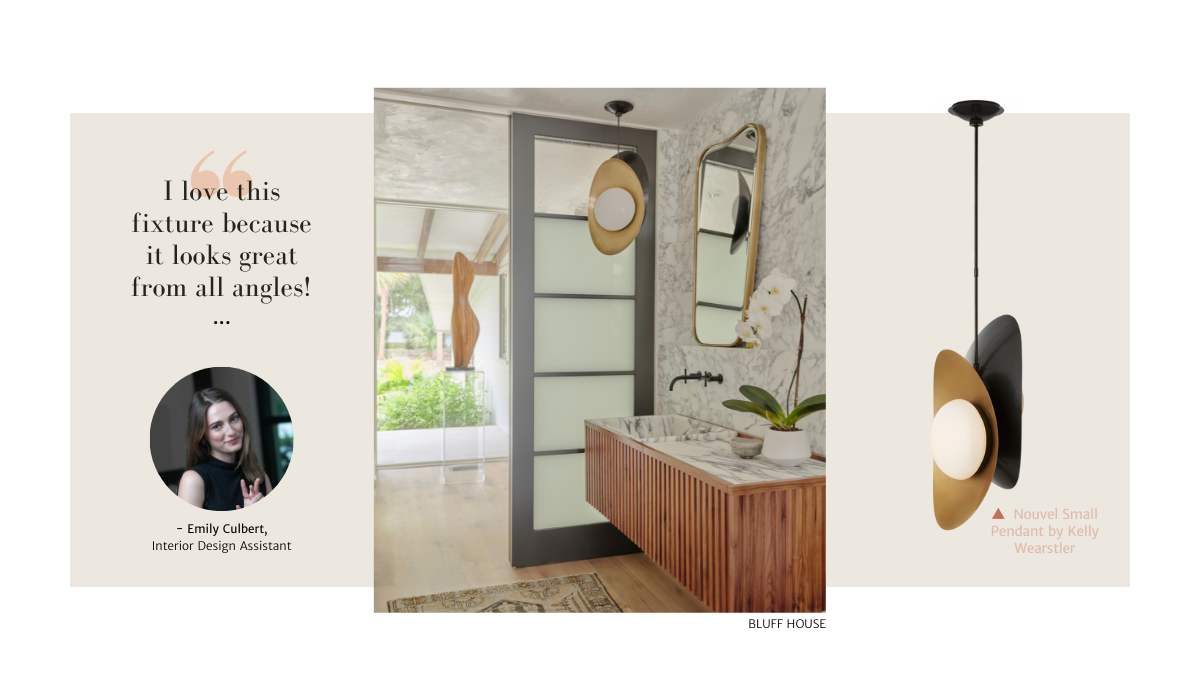 My favorite light fixture is the Nouvel Small Pendant in Bronze and Antique-Burnished Brass with White Glass by Kelly Wearstler. It features a distinctive design and soulful vibe, and I love how it looks great from all angles. I also love the mix of bronze and antique brass finishes. As seen in the Bluff House.

Jacqueline Guarisco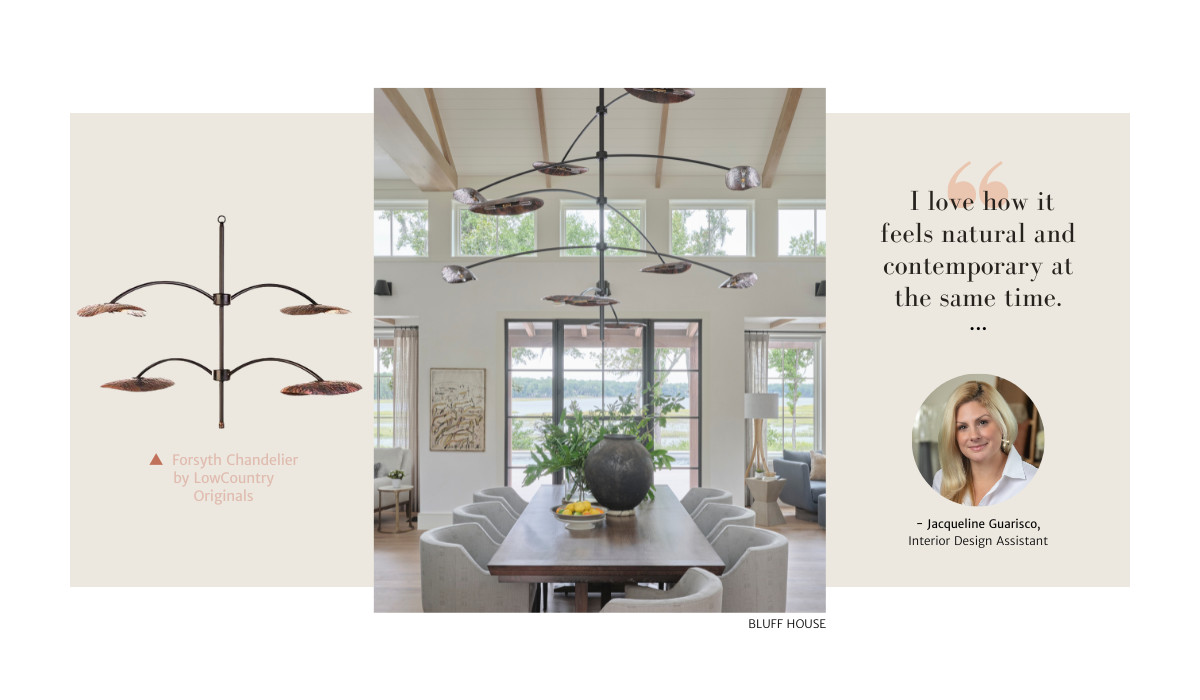 I have been taken with the Forsyth Chandelier by Lowcountry Originals for quite some time. The custom height piece is not only a light fixture but a functional hanging sculpture made of handcrafted rusted and torched mixed metals. I love how it feels natural and contemporary at the same time. As seen in the Bluff House.

Madison Wall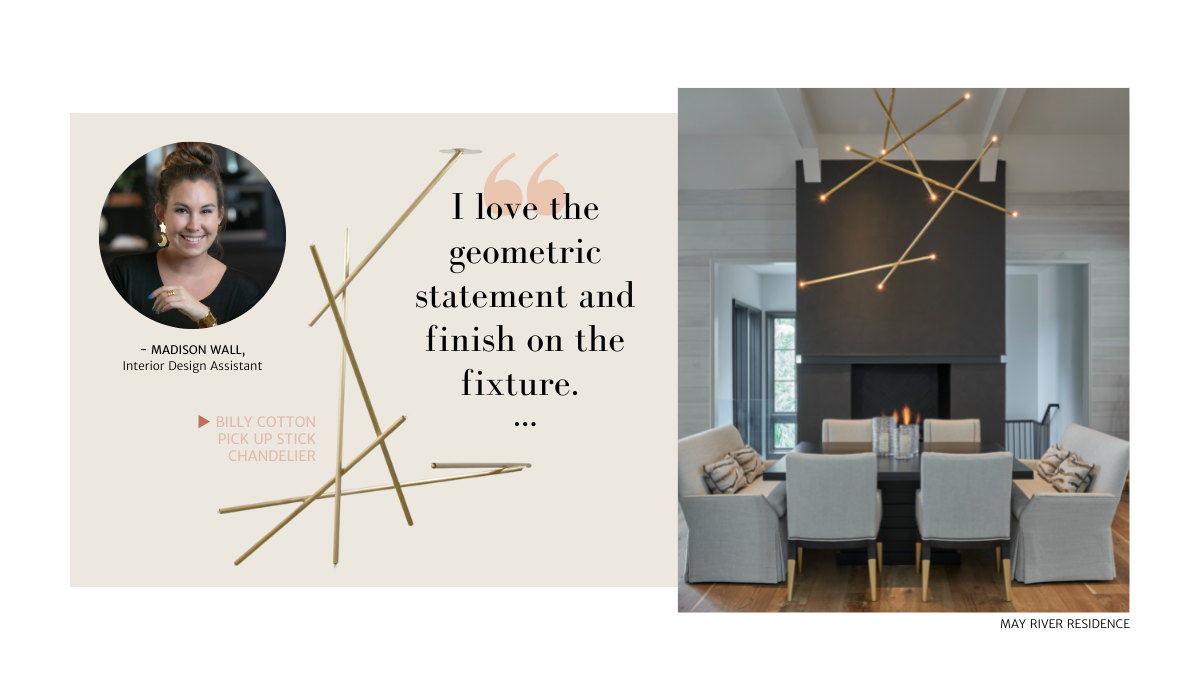 My favorite light fixture captured thus far is the Pick Up Stick Chandelier by Billy Cotton, used in our May River Residence. It is a playful contrast to the formality of the space and breaks up the clean lines by adding interest and movement. I especially love the geometric statement and brushed brass finish on the fixture. As seen in the May River Residence.
Group Pick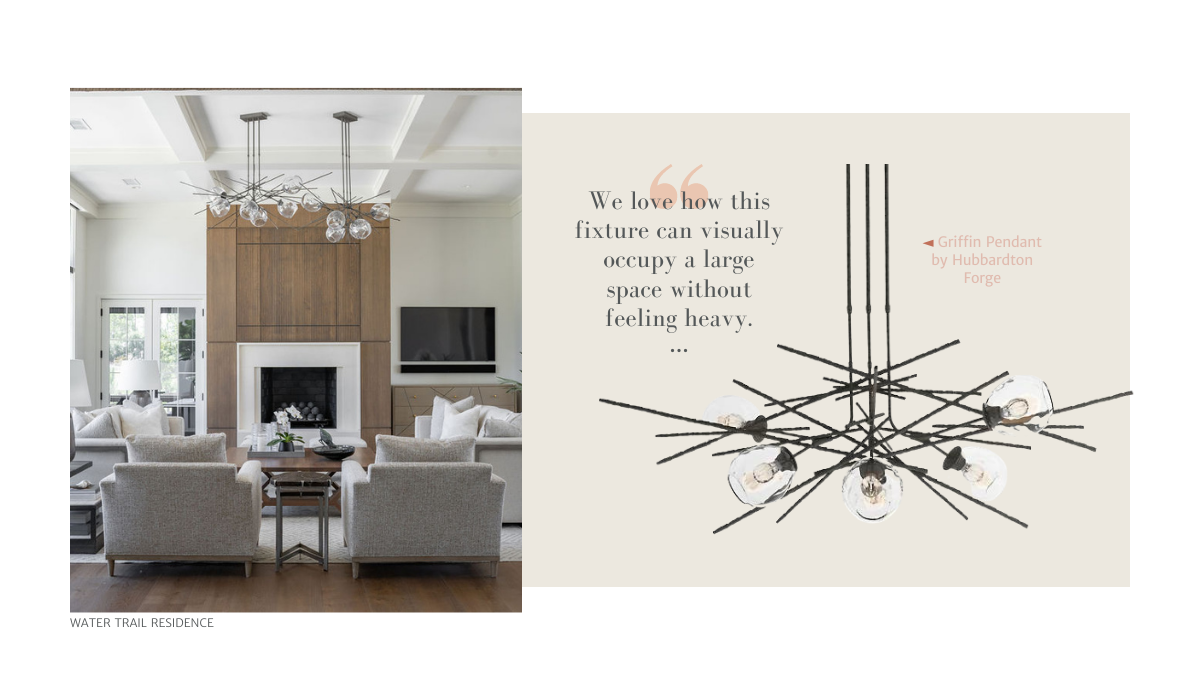 If there's one fixture the team could agree on, it's the Griffin Pendant by Hubbardton Forge. Here, a hand-forged, bark-like texture is applied to the fixture's steel branches, interspersed with clear hand-blown glass globes from Vermont glassblowers Simon Pearce.
Two of these were mounted at different angles and staggered heights in the great room of the Water Trail Residence, where we love their organic compositions and how they're able to visually occupy a large space without ever feeling heavy. As seen in the Water Trail Residence.

Want more? View our interior design projects.
WANT MORE?
Sign up for our newsletter.
Stay up to date with all things Court Atkins Group – inspired design, client visions, upcoming events, the occasional bourbon recommendation, and so much more. We're glad you're here.